Shortbread & Kozys
$5 SHIPPING for orders over $50
FREE SHIPPING for orders over $100
Mindy, customer since 1990

"Nothing excites our household more than the arrival of Nana's shortbread. We try to ration ourselves to one piece a day to make it last longer! Nothing compares to this wonderful baked treat."

The Washington Post Food Section

"...melt-in-your mouth buttery biscuits..."

Brenda Holt, Chair WHC, Sisterhood Boutique

"3 Nanas—the best, most classic shortbread cookies ever! Light as a feather, beautiful blond colour and fabulous taste."
Short Bread
My Nana, Johanna, emigrated with her family from Shetland, Scotland in 1913.  I made shortbread with her when I was a child,  growing up in New Zealand.  The simple act of giving a few delicious biscuits has this wonderful, warm effect on its recipients; people remember it, appreciate it, and long for more.  Over the years, I have gifted my shortbread to friends and family and a phrase has evolved : The Shortbread Effect.  I'm grateful to be able to share my Nana's traditions and kindness with others.  Share  with your family and friends and experience The Shortbread Effect for yourself!
Tony James

This Kozy is the best Heating Pillow/Pad I have ever used. As a Tennis coach by profession, I am constantly dealing with aches and pains. I have both shapes, the square and long one. I find that the heat lasts a really long time and the weight of the Pillow allows for some compression which gives a deep penetration of the heat or cold! I recommend them to all my students, 5 STARS - Best in Class!

Julie - ER Staff gift coordinator Holy Cross Hospital. (Every ER Doctor received a Neck Kozy for Christmas)

Hi Rhonda, I just wanted to follow up with you about the Long Neck Kozys.
They are a HUGE success!
The doctors love them! Also, you should see everyone's faces when they take their first bite of your Shortbread... I want to tell them to "get a room" Honestly - a HUGE HUGE success

Trisha de Borchgrave, Customer since 2001

Over the years I have bought numerous Kiwi Kozys and have kept and used every single one; after all the best present is the one you'd like to have. Their healing warmth has got me through the flu, cold nights and insomnia and I couldn't do without them.
Kozys
These carefully handmade pillows can be used either hot (Microwave) or cold (Freezer) No plugs, batteries or wires. Sturdy, ergonomic, & heavy enough to create biofeedback healing effect. Kozys stay warm for a surprisingly long time when on your body. Kiwi Koolys are wonderfully soothing if you suffer from migraines.
Regular price

Sale price

$21.99 USD

Unit price

per

Regular price

Sale price

$23.99 USD

Unit price

per

Regular price

Sale price

$23.00 USD

Unit price

per
AVAILABLE FOR PICK UP
Kiwi Kozys and Shortbread are available for pick up at my Front Step Store front.
Interested in picking up? Email Rhonda for more details.
3nanas3nanas@gmail.com
Want free shipping?
Shop Kiwi Kozys through Amazon.com below and receive free shipping off your order!
EYE KOZY

"I have been using my Eye Kozy for 20 years.   I love the weight, because it relaxes my 'busy' eyes when I am trying to sleep or rest.   It's beautifully made.  I keep it next to my bed in its beaded Kozy bag,  for times when I wake up during the night." 

- Lesley Hadley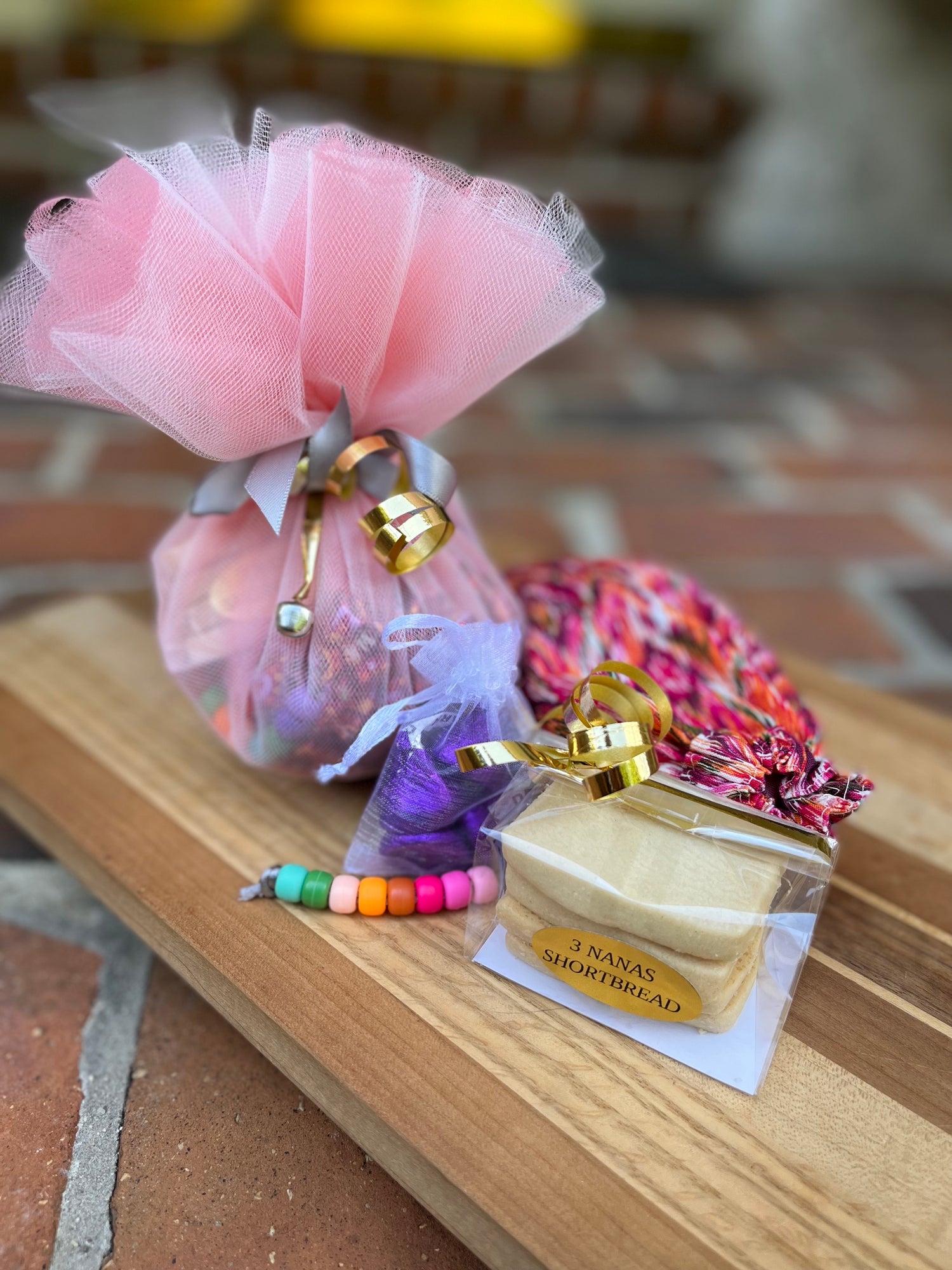 Bridal & Baby Shower Gifts / Favours
These gorgeous gifts include an Eye Kozy, 1 pack of 3 Nanas Traditional Shortbread (4 pieces)  ( Chocolate or Gluten Free option) and a tiny bag of Dark Chocolate Kisses.  Tied together with tulle ( colour of your choosing) and a silver bell.   I am happy to include some wonderful organic cruelty free skin care for the bride or mum-to-be, along with a gourmet bar of dark chocolate at an additional cost.  These make ideal  Shower gifts or Shower favours.Please mail Rhonda directly
(3nanas3nanas@gmail.com), as these are special orders which cannot be purchased online using the shopping cart.
VIEW PRODUCT
GIVING IS IMPORTANT
With the help of donations, 3 NANAS has made & donated over 900 masks to Childrens & Suburban Hospitals, DC Animal Shelter, Caring Hands Veterinary Clinic, Caregivers, USPS, UPS, Cashiers, NYC , NIH Childrens' Inn, Environmental Water conservation project workers in CA, Sage Midwifery in VA, Refuse & Recycle collectors, AART (Free Preschool programmes for Children in Need), Teachers, Home Health Healthcare Providers, friends and neighbours.